SHI and AWS
AWS Premier Consulting Partner
AWS Competencies
Expertise for AWS cloud adoption
AWS (Amazon Web Services) and SHI share a customer-first approach. AWS provides industry leading cloud infrastructure, with over 200 fully featured services to support any cloud workload for data centers globally. As a Premier Consulting Partner, SHI helps you optimize your AWS cloud adoption, with visibility into every step of the process, deep AWS expertise, and services that help you control costs as you scale.
In addition to being an AWS Premier Consulting Partner and MSP Partner, SHI has certified competencies in Migration and Storage, and participates in the following AWS programs:
AWS Partner Network
AWS Well-Architected Partner Program
AWS Public Sector Program
APN Immersion Days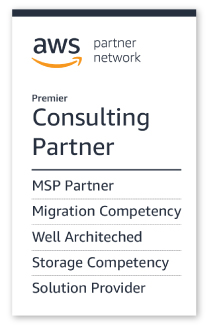 About AWS
Amazon Web Services (AWS) is the world's most comprehensive and broadly adopted cloud platform, offering over 200 fully featured services from data centers globally. The AWS Cloud spans 81 Availability Zones within 25 geographic regions around the world, with announced plans for 21 more Availability Zones and 7 more AWS Regions in Australia, India, Indonesia, Israel, Spain, Switzerland, and United Arab Emirates (UAE).
Partnership with SHI
Optimize and accelerate your cloud adoption with SHI and Amazon Web Services (AWS). From simplified billing to seamlessly managing and optimizing your assets, collaborate with SHI for all your AWS needs. Enjoy the benefits of AWS combined with expertise and customer-centric focus from SHI. SHI's AWS-certified experts help you innovate and transform with confidence. Contact SHI