Stratascale brings a consultancy-first approach to helping SHI customers rapidly adapt in response to business changes and challenges through technology innovation. They call this digital agility.
As a wholly-owned subsidiary of SHI International, Stratascale's researchers, technical advisors, consultants and field service professionals seamlessly integrate with SHI's world-class procurement, implementation and managed services capabilities, giving customers access to a truly integrated end-to-end partner for enabling their business technology transformative journey.
Stratascale's offerings are aligned around five centers of excellence and their methodology applies intelligence and real-world wisdom to solving your most pressing business challenges, not brute force and an over-reliance on manual labor.
Cloud
Ascension
Advisory, consulting, design, implementation and technology adoptions services that help your organization embrace the benefits of public and private cloud.
Automation
at Scale
Overcome your limitations of traditional infrastructure and application delivery with infrastructure orchestration and infrastructure as code services.
Digital
Experience
Optimized life-cycle approach for systematically visualizing your dependencies and performance that enables best-in-class user experiences.
Data
Realize the full power of your data by making it structured, understandable and available to those that need it in a useable way.
Cybersecurity
A sophisticated approach to cybersecurity that looks to rationalize and consolidate your disparate technology to provide a more secure environment for infrastructure, data and people.
Why did we create Stratascale?
In many ways it was you, our Enterprise customers, that created Stratascale. You told us that you're trying to deliver automation & orchestration capabilities. Attempting to wrangle sprawling data issues. Grappling with obsolete security architectures and working to integrate security as a pervasive practice in the delivery of applications.
You have ambitious ideas and vision for leveraging technology to propel the business forward but you're looking for new ways to explore solutions that can help make you more relevant and competitive in a changing world.
What you needed was fresh thinking. Digital Agility. And that's what Stratascale delivers. Stratascale has the ability to leverage SHI's vendor relationships, technical expertise and unbeatable pricing when it makes sense to do so; and to operate independently when that's in your best interests.
Stratascale's Innovation Labs is a differentiator in IT consulting
At the tip of the spear in the Stratascale ecosystem, Innovation Labs is the trifecta that IT leaders need for digital transformation: research and advisory (the why/the vision), consulting and professional services (the how/the design), and deployment and integration (the what/the execution). Stratascale can assist you by developing transformation roadmaps that outline the procurement, deployment, integration, adoption, optimization and maintenance of your technology solutions.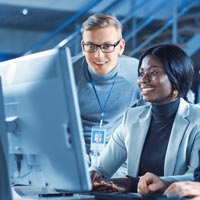 Research
The Research team is Stratascale's industry insights intake mechanism, examining trends and technologies based on their business value and relevant developments in the marketplace.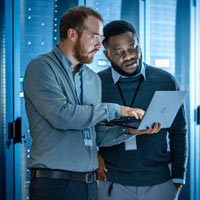 Technical Advisory
The Technical Advisory team works side-by-side with their Research colleagues to ensure technology solutions are being looked through a lens of practicality. Their team also investigates whether the solutions identified in its research can deliver on your required capabilities.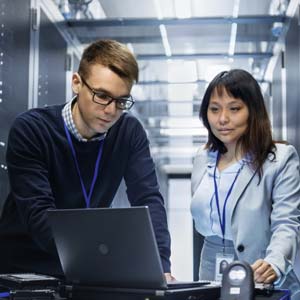 Customer Innovation Center
The Customer Innovation Center (CIC) is an 8,000-sq.-ft. production-grade data center, and an extension of our world-class Executive Briefing Center. Located at our New Jersey headquarters, the CIC is run by a team of principal architects and engineers who collaborate with you and our IT innovators on demos, Proof of Concepts/Proof of Value, product comparisons, training and enablement. Visit SHI.com/CIC to learn more.
A smarter way of achieving your Digital Agility initiatives
Advise
Stratascale's Innovation Labs' strategists provide you with market insights and assessments focused on business, technical and use case intelligence.
Innovate
Their consultants combine strategy and real-world wisdom to help you find the right solutions and technologies for your individual needs.
Adopt
Their technologists lead the implementation and improvement of your systems and processes so you remain relevant and competitive in today's environment.
A note from David Olzak, Stratascale Senior Vice President:
The pace of change over the last ten years has put an incredible strain on the technology used to support business operations, especially in larger organizations. To that end, customers have started asking SHI to become more engaged, more strategic and more intimately involved in their business, putting us in a position to better help them manage their constantly shifting priorities.
That's the key business driver behind the creation of Stratascale, a wholly-owned subsidiary of SHI that is relentlessly focused on guiding our clients on their journey to achieve true digital agility. Working with your technology leaders and business stakeholders across your organization, our real-world wisdom will help you achieve your most critical business outcomes and overcome technology obstacles.
As our primary business is not selling hardware and software, Stratascale can work either hand-in-hand with your existing SHI account team or entirely independently, as best suits your needs in each situation.
I encourage you to learn more about Stratascale and engage with our analysts and consulting content at Stratascale.com/insights/. You can contact us through our Stratascale website where our sales teams are always available to talk with you about your most ambitious plans, toughest challenges, where you believe you will be looking to make a significant impact, and how Stratascale and SHI can ensure these efforts are successful.
— David